---
AVAILABLE FOR SOLO FROM
SUNRISE AVIATION
Standard Decathlons
Super Decathlon
Pitt S-2B
Extra 300
---
Membership Application & Renewal
---
---
---
---
---
---
---

Event Registration
Judges School
Sunrise Seminar
Training Camps

---
IAC Chapter 36 hosts Hammerhead Roundup. April 11-13, 2013.
Yolandi Jooste, Contest Director, ran a tight and well-organized contest at the Borrego Valley Airport. Twenty-five pilots competed in five categories, and with the exception of an occasional mechanical glitch, everything went very smoothly. Winds were light to moderate for all three days, and the temperature blessedly tolerable.
The contest featured some very fine flying. Of special note were the success of both Howard Kerker (Unlimited) and Dave Watson (Advanced) in a 4-cylinder Lazer, and Elias Corey's win in his first Intermediate contest.
The size of the turnout made it possible to finish up early Saturday afternoon, and cleanup was finished promptly, thanks to the efforts of Bill Hill and his crew.
The after-contest party featured an announcement by Chapter 36 president, Gray Brandt, that an arrangement has been worked out for the Borrego contest box to remain in place and accessible after installation of a planned solar array on the valley floor.
Contest Winners
Unlimited: Tim Just (26), Howard Kerker (38).
Advanced: John Howell (26), Dave Watson (38), Endo (120).
Intermediate: Elias Corey (120), Andrew Slatkin (49), Yohei Shiratori (38)
Sportsman: Matt Dunfee (120), Barrett Hines (26), John Scruggs (36)
Primary: Barry Faust (36), Anthony Oshinuga (36)
Contest Support
None of this would have happened without the consistent efforts of volunteers: Yolandi (Contest Director and Volunteer Coordinator), Brenda Frazier (Registrar and Volunteer Coordinator), Gary DeBaum (Starter and Tech Inspector), Bill Hill (stage manager), all the grading and chief judges, and a fine crew of unsung heros: the corner judges.
IAC Chapter 120 Team earns five trophies following two days of coaching
The Aerobats team started to assemble at Borrego on Sunday evening, April 7, with plans to start practice for the Hammerhead Roundup early Monday morning. Unfortunately, the Southern California weather machine had other plans: specifically, an attempt to blow Borrego clean off the map. Gusts of 75 mph, seven power poles down, and a city-wide power outage kept the pilots grounded, looking for somewhere---anywhere--just to get a meal.
By Tuesday, however, the weather had relented, and the team got in two solid days of practice. Students were Nicolaas Vlok (Primary), Matt Dunfee and Kevin Elizondo (Sportsman), Elias Corey (Intermediate), and Endo (Advanced).The coach was Michael Church
The hard work paid off: Two First place finishes (Matt and Elias) and a Third place (Endo). In addition, the team earned Highest Scoring Chapter and Highest Scoring School trophies.

Southern California Aerobatic Club
"SoCal Aerobats"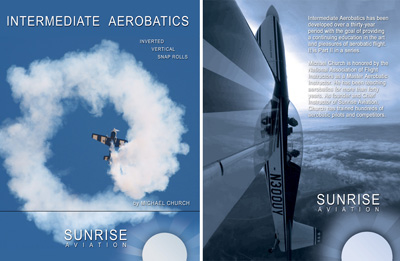 Intermediate Aerobatics
Available in book form or as download
Michael Church
Chapter News
New Membership Policy
After four years, the Chapter 120 Officers have decided to change the way we manage chapter membership. To this point we have not kept a formal membership roster, content to list only enough pilots to fill the slate of required officers.
From 2011 forward we have been accepting applications and keeping a roster. General membership benefits include:

Personal coaching in the Blockhouse
Aircraft rental from Sunrise Aviation for California contests
Priority access to Chapter Training Camps
Priority access to Chapter hosted Judging Schools
Contest support
We also offer Charter Memberships, although it is unclear at this time how one earns the privilege and what, if any, benefits come with it. The current Charter Members are:
Michael Church
Jon Nash
Clark Foster
Daniel Wisehart
You can apply for membership with our Easy Fillout™ form. Annual dues are $10 (compare to others!). As the chapter has no debts (compare to others!), our plan is to save up the dues until we have enough money for a party.