---
AVAILABLE FOR SOLO
SUNRISE AVIATION
Standard Decathlons
Super Decathlon
Pitt S-2B
Extra 300
---
Membership Application & Renewal
---
---
---
---
---
---
---

Event Registration
Judges School
Sunrise Seminar
Training Camps

---
IAC Chapter 36 gets new rubber. March 23, 2013.
Bill Hill, Chapter 36 Treasurer, put out a plea for donations to replace the tires on the Chapter Suzuki Samurai. Kevin Elizondo promptly stepped up and contributed the four tires and the cost of installation. He traveled to Borrego on Saturday, 3/23, to oversee the replacement. Two other Chapter 120 members, Daniel Wisehart and Nicolaas Vlok, added cash to the pot before it was clear Elizondo had covered the entire cost, so Hill announced he would establish a Samurai fund to be used for future vehicle maintenance.
The Suzuki was a gift to Chapter 36 from Bill Bancroft, Past Chapter President.
IAC Chapter 36 Board of Directors refuses to reinstate Rory Moore. March 16, 2013
Moore was expelled from Chapter 36 in September of 2012, the first Chapter member to have been punished in this manner since the club's formation in the mid-seventies. Subsequent research determined that all but one of the charges leveled against Moore were false, and he petitioned the BOD for reinstatement. The matter had gained considerable attention, and a group of ten Chapter members, three of them past Directors of the Chapter, formally proposed to the BOD in January that the reduced charges would best be handled by a suspension rather than an expulsion.
After hearing Moore's petition in a closed session on February 16, the BOD took the matter under advisement. The group released their decision in a letter to Moore on Wednesday, March 16, stating their intent to prolong the expulsion order until 2014. No further explanation was given, but in a subsequent conversation with Moore, Chapter president Gray Brandt is quoted to have said there had been pressure from the FAA to act.
The BOD decision came as a surprise to many. It bans Moore from use of the waivered airspace at Borrego and according to him will effectively prevent him from making practice flights in his new Extra.
At the time of his expulsion, Moore was one of only two Unlimited pilots in Chapter 36 and was the longest standing active member of the club.
It is unclear if Moore will take further action to reverse the BOD decision.
Aerobatic Coaching. March 15-16, 2013
IAC Chapter 120 kicked off the 2013 contest season with its first two-day coaching session at the Borrego Valley Airport. The students were Matt Dunfee (Sportsman, Extra 300), Kevin Elizondo (Sportsman, Pitts S-2B), Elias Corey (Intermediate, Extra 300), and Nicolaas Vlok (Primary, Extra 300). They were coached by Michael Church. The weather was spectacular: cool (for Borrego), with little wind.

The only bump in the road was an oil pressure gauge failure in Elizondo's Pitts which effectively grounded him for much of the session. Denied a chance to fly, he got in some R&R at the hotel pool.
Aerobats Judges School. March 2-3, 2013
Brian Howard traveled to Orange County from Arizona to teach the first US aerobatic judging school of 2013. The event was hosted at Sunrise Aviation by IAC Chapter 120 and attended by fourteen students.
After a first day spent explaining contest structure and management, Howard launched into the meat of the matter on Sunday: criteria for grading maneuvers and new rules adopted by IAC for 2013.
Several important rule changes are in place that will require careful pre-contest briefings early in the year to assure grading judges understand the new standards. Additionally, some contestants will need to redraw their Free sequences this year to fall in line with a new graphic requirement that affects how Y axis maneuvers are drawn.
Attendees: Colleen Keller, Barrett Hines, Dick Stonehouse, Endo Hiroyasu, Kevin Elizondo Lianna Zmijak, Chris Olmstead, Malcom Pond, Fernando Scalini, Bill Hill, Guy Acheson, Andrew Slatkin, Matt Dunfee, and Michael Church.
Chapter 36 Membership meeting a failure. February 16, 2013
The Chapter 36 Board of Directors held the first general Chapter meeting of 2013 on February 16. Strangely, the Board's announcement of the date and time of the meeting came only two days before the event itself, so only one of the 60+ Chapter members showed up: Daniel Wisehart. The BOD itself was not fully represented.
In reporting on the event, Wisehart says new officers were named and the April CD announced (Yolandi Jooste). Bill Hill, Treasurer, presented a financial report. In response to a question, the BOD said members are attempting to draw up rules for future disciplinary actions, but have not yet completed the work. The meeting was held in the Atlantic Aviation conference room at SNA, a room designed to seat ten people.
The fact that Chapter officers had already been chosen may indicate a prior BOD meeting had already been held in 2013. If the intent of this meeting was to attract Chapter members and involve them in policies, plans and activities for the coming year, the event must be said to have been a thorough failure.
Redlands
July 12-14.
It started out as a Mini scheduled in March, was rained out and relocated to July, then morphed again into a full five-category contest after the Paso Robles event was cancelled. Only two Chapter members went, Matt Dunfee, flying the Sunrise Extra 300, and Dale Roberts. After struggling a bit in the first flight, Matt edged out Dale for Third Place, Sportsman.

Los Angeles Gold Cup (Apple Valley)
May 4-5.
More success! Matt Dunfee, Second Place Sportsman; Fernando Scalini, Third Place Sportsman; Elias Corey, Fourth Place Sportsman. Matt and Fernando flew the Sunrise Extra, and Elias his own S-1 Pitts.
Hammerhead RoundUp (Borrego)
April 12-14. SUCCESS! Seven Trophies: First Place Sportsman, Second Place Advanced, Second Place Intermediate, Second Place Primary, Third Place Sportsman, Highest Scoring Flight School and Highest Scoring Chapter. Winners in order were Matt Dunfee (Extra), Hiroyasu Endo (Extra), Daniel Wisehart (S-1 Pitts), James Smet (S-1 Pitts), Fernando Scalini (Extra), Sunrise Aviation and IAC Chapter 120. All pilots were coached by Michael Church. There!
The Revenge of the Aerobatist (Redlands)
March 16-17. [Cancelled/postponed due to weather]
Tequila Cup
November 3-5. Endo was our sole export to Arizona, flying the Advanced category in the Sunrise Extra 300. The wind was a factor: strong enough to drift a hammerhead almost the length of the box. After taking one zero in the Known, Endo came back, taking First in the Free, Second in the Unknown and finishing with his second Second Place overall finish for 2011.
Borrego Akrofest
October 13-15. After a quiet summer, the SoCal Aerobats team revived in time to make a respectable showing in Borrego at the Fall classic. James Smet, new to a Pitts S1, captured second place Primary, Daniel won Third place, Intermediate, and Endo toook Second place, Advanced. Fernando Scalini flew Sportsman, but lost his chance for a trophy when he zeroed a figure in his second flight.
For Daniel and Endo, the trophies represented a lot of hard work: in each case it was the first win since moving up in category. Daniel, Fernando and James were flying 80DD, the Pitts S1 they recently purchased from Ty Frisby.
The contest was preceeded by a two-day Chapter 120 coaching camp attended by Endo, Fernando and Dale Roberts. Dale went on to win First place, Sportsman, in his Decathlon.

80DD
Duel in the Desert (Apple Valley--May)
May. The second California contest is in the books, a five-category contest at the Apple Valley airport. The big news for Sunrise was the performance of the two pilots who represented Chapter 120: Elias McGeeney earned Second Place, Primary, and Matt Dunfee finished just out of the running in Fourth Place, Sportsman.
Matt's accomplishment is not fairly reflected by his fourth place finish. He lives in Apple Valley, but that was the sole familiar element for the entire weekend. He had elected to move from the Sunrise Decathlon to our Extra 300 just two weeks earlier. Mastering a high performance plane wasn't enough: he also jumped up from Primary to Sportsman.
Matt's first solo flight in the Extra was the ferry flight to APV, his second and third were practice flights on Thursday, and his next flight was his first competitve flight in Sportsman. And here's the impressive part: he finished third and second, respectively, in his first two contest flights.
A zero on a spin in the third and last flight took Matt out of the medal picture, but all told, he and his CFIs have a lot to be proud of.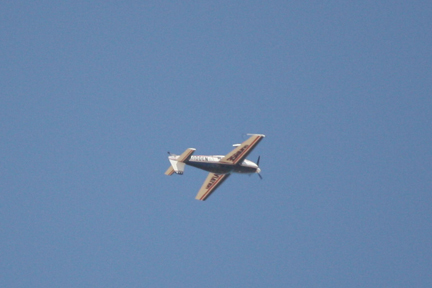 Matt & the Extra
Hammerhead Roundup (Borrego--April)
Jeff Boerboon. In addition to the standard pleasures of watching new and experienced pilots work their way through the intricacies of competitive flight, the big news at the Borrego contest was the Jeff Boerboon Show. Jeff, the current US National Champion, undertook to dazzle onlookers by earning an "Achievement Award" in all five categories. To accomplish this, he chose to fly every single maneuver flown by all the other entrants.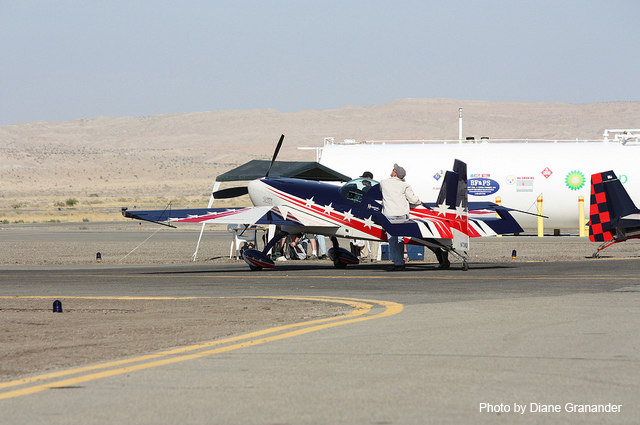 Jeff's Extra, at rest for a moment
What started as an improbable task--no zeros in fifteen flights--eventually took on the flavor of a no-hitter in its last two innings: it could actually happen. By the time Jeff started the last sequence, each new maneuver had us all staring at the sky rooting for success, and there was a count-down started at the Chief judge's table.
He made it.
The Start of the Season!
February. 2011 is off to a good start. On Saturday, February 26 we began the year with a well-attended Advanced Judging School. The instructor was Brian Howard, and nine active judges kept him busy answering questions well past the scheduled end of class. Four attendees were renewing National judges, and five are committed to earning National status this year.
April. Our first training camp of the new season! We traveled to Borrego on April 1st and 2nd to start tuning up for the contest year. Daniel Wisehart, Elias McGeeney and Matt Dunfee were the students, and Michael Church coached. Elias and Matt are new to the sport and will be flying Primary for at least the first contest. Daniel is starting his second year in the Intermediate category.
Both Daniel and Elias are flying new (to them) airplanes: each is the proud owner of a Pitts S1. It was fun to coach single-place Pitts again: great competition performers--by far the best return for the dollar.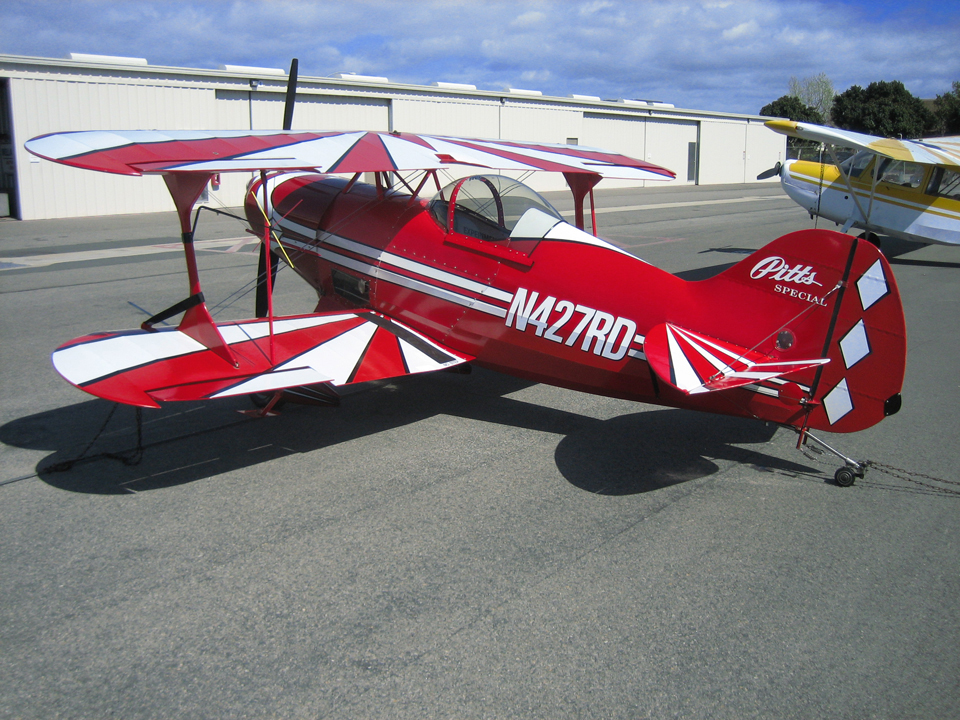 Elias's Pitts S1S